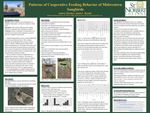 Title
Patterns of Cooperative Feeding Behavior of Midwestern Songbirds
Description
Question: Is there a pattern in the feeding behavior of songbirds within species, will species cooperate to obtain food?
Hypothesis: There will be a difference in the feeding behaviors of song birds when cooperation is required.
Prediction: If there is a difference in feeding behavior of song birds across species when cooperation is required then fewer songbirds will be present.
Advisor
Dr. Adam Brandt, Biology
Keywords
undergraduate, research, collaboration, biology, cooperative feeding, songbirds
Recommended Citation
Shreiner, Audrey, "Patterns of Cooperative Feeding Behavior of Midwestern Songbirds" (2021). Student Presentations. 25.
https://digitalcommons.snc.edu/collaborative_presentations/25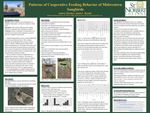 COinS