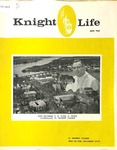 Title
Description
This is a brief description of some of the main points of the edition.
The awarding of four honorary degrees at the 1968 Commencement. Both D. M. Burke and Vince Lombardi were recipients.
Fr. Burke becomes the Chancellor of SNC after stepping down as president. It provides a short biography on his life.
Professors Neil J. Webb and Thomas F. Grib's publishing of a two-year experiment on student-led discussion groups.
A Special Report on the struggles that all private schools are experiencing in the country at that time.
Lt. Louis V. Distelzweig '64 and his completion of 318 flying combat missions.
An ad that appeared in TIME Magazine about Vince Lombardi's strong affiliation with the college.
Keywords
Vince Lombardi, Burke, Vietnam, Dr. Padden, History
Recommended Citation
St. Norbert College, "Knight Life: June 1968" (1968). Knight Life. 1.
https://digitalcommons.snc.edu/knightlifearchives/1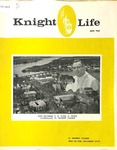 COinS