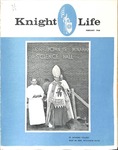 Description
This is a brief description of some of the main points of the edition.
The actions of Lt. Charles L. Johnson '65 during the Vietnam war and the awards he received for them.
The dedication of the Dr. John R. Minahan Science Hall held on Oct. 29th.
The recipients of the 1968 Alma Mater Awards, Malevich '29 and Madden '42, and their vocational work and service in Christian life.
A paper written by Latin American history professor, Dr. Padden, on history as a "mode of inquiry into human behavior" instead of a "sterile and static accumulation of data."
An article that appeared in the Green Bay Press-Gazette about SNC's taking on unique challenges aimed towards private schools.
Recommended Citation
St. Norbert College, "Knight Life: February 1968" (1968). Knight Life. 2.
https://digitalcommons.snc.edu/knightlifearchives/2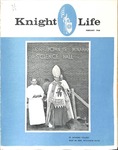 COinS