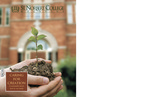 Files
Download Summer 2009 Landing Page (84 KB)
Download The gospel of green (99 KB)
Download A place in creation (106 KB)
Download Earth watch (111 KB)
Download A green collaboration (90 KB)
Download Adventures in environmental science (162 KB)
Download Shadowed ground, sacred place (85 KB)
Download A voice when they couldn't speak (101 KB)
Download Senior half-miler sweeps 2009 indoor and outdoor national championships (88 KB)
Description
A sustainable future rests in our hands

Institutions like St. Norbert College, dedicated to the furthering of research and the education of future generations, take seriously their responsibility to teach by word and example how we might meet the Earth's need for gentler living.

On the cover: Wherever the Norbertine order has sent them, its members have looked for ways to meet the needs of the community around them. The charism of the order itself, consistent with Catholic social teaching, calls for a careful stewardship of the earth. No surprise, then, that environmental education and sustainability is such a natural concern for a college like St. Norbert.
Publication Date
Summer 2009
Keywords
sustainable, environment, Norbert of Xanten, American College and University President's Climate commitment, Heather Bieick, volcano, Tim Boyer, heat change, John Minahan Science Hall, environmental science, nature, sacred place, developmental challenges, medical challenges, Asley Graybill, championship, 800-meter
Recommended Citation
St. Norbert College, "Summer 2009: Caring for creation" (2009). St. Norbert College Magazine 2007-2012. 11.
https://digitalcommons.snc.edu/snc_magazine_archives/11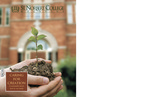 COinS